Livingston Young Professionals
Many young professionals, aged 21 - 40, would like to get more involved in Livingston Parish, but aren't sure where to start.  The Chamber's young professional program can show you the way.  Livingston Young Professionals was formed in 2015 to engage individuals just like you.  The program offers opportunities for you to meet with others who share your desire to play a more active role and build a network in Livingston Parish.  Here's what we offer.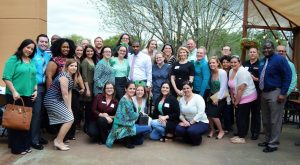 We keep a calendar of events especially for young professionals.  Some events are smaller and are perfect for those who prefer meeting in a closer setting.  Others are meant to draw a larger audience.  You choose.  Whatever your preference, you will be welcomed from your very first event and comfortable with your peers in no time.  The event list includes:
Quarterly Member Meetings
Young Professionals Conference
Annual Christmas Mixer
Interesting topics and speakers
Governmental Events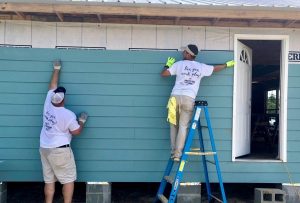 Community Service
Creating a culture of care for your community not only builds relationships but also makes a positive impact.  Community service brings us together for the common good, as we become involved in community issues.  Like events, service projects vary from smaller to larger acts of kindness.  Members of LYP are kept informed of opportunities to help.  Some of the past service projects have been:
House build in the Killian, Springfield area
Valentines for seniors who were shut in
Assisting local social service agencies
How do I benefit?
Being a part of a group with a collective interest, like young professionals, is a positive step in your personal development.  In this setting, you can't help but grow and learn.  As a bonus, your community benefits from more informed and prepared individuals.  We asked our most engaged members of the program what they value most.  Here are their top five:
Builds a network of peers
Develops your personal brand
Develops your skillset
Offers leadership opportunities and experience
Make friends and learn about the parish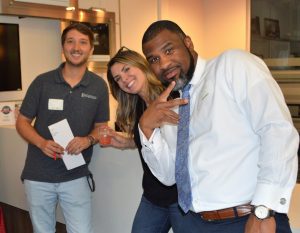 Many LYP members are representatives of Chamber business members, but that is not a requirement.  There is an individual option too.  All members either live, work or have a vested interest in Livingston Parish.  You can see them all here.
Not to get deep, but since it is a Chamber program, it does tie to the Chamber's mission and goals - to serve business, enhance community and develop leaders in Livingston Parish.
By the way, fees to join Livingston Young Professionals are only $35 per year for current Chamber members and only $75 for other individuals.
How can I follow along or receive updates?
You can always follow our social channels for posts that are public.  We are on facebook and instagram.  We also a engage regularly through a private facebook group.  Plus you can signup for monthly LYP Newsletters sent to your inbox.
livingstonyoungprofessionals instagram
Livingston Young Professionals Leadership Council 2022-2023
COUNCIL MEMBERS
Caitlyn Fontenot, Alexis Ducorbier State Farm - Chair
Josh Prejean, Bank of Zachary -Incoming Chair
Ross Kinchen, The Kinchen Group
Kelsie Moak, Gulf South Technology
Marissa Hoffstetter, Restoration One
Amber Cook, The First Bank
Chris Neal, Pelican State Credit Union
Lauren Barnes, Livingston Parish Chamber - Staff
Purpose:  To engage and develop future leaders
Goal:  Develop future leaders and informed individuals who are connected to a common goal.
Livingston Young Professionals Past Chairs
Kelsie Moak - Gulf South Technology Solutions
2020 - 2021
Ross Kinchen -        The Kinchen Group
2022 - 2023
2019 - 2020
Kevin Foster -        First Guaranty Bank
2018 - 2019
Jamie Seal - Quality Engineering & Surveying
2016 - 2018
Hannah Kimbrough
2015 - 2016
Livingston Young Professionals History - Charter Members
The program was founded in 2015.  April Wehrs, Chamber CEO, invited three young community leaders to meet.  The vision for the program was shared with the group.  Their enthusiam and willingness to participate in the the program coming to life started the program.  That's how good things get started - a vision, a plan and the right people to make it work.
Following several planning sessions, the first open meeting was held on October 22, 2015 at the Chamber office on Veterans Boulevard officially launching the program.
Of the 28 Charter Members of the LYP Program that remain engaged today are:  Jamie Seal, Kacie Stewart, Tammy French and James McCants.