The Chamber hosts the largest business events, with substantial attendance, in Livingston Parish.  To help you decide what events are right for you, we have created an overview of business events offered by the Chamber.  For accurate dates, visit our event calendar found here. For information on gaining exposure for your business by sponsoring events, view the opportunities button above.  You can find that tab by clicking here as well.  It will help you plan your marketing. We are happy to assist you with finding the perfect fit for your business needs and attaching you to the right event for you. We look forward to seeing you at our next event!
Annual Meeting & Awards Banquet Business of the Year - January
The Annual Meeting starts each year with a celebration of business.  The annual Business of the Year Awards are announced.  The banquet is a sell out event and attracts over 200 people annually.  A business leader keynote is highlighted by a Livingston Pairsh business leader.  Plans for the coming year are announced at this event.  200 plus attendees. Learn More About Our Annual Meeting
Categories: Network, Connecting, Exposure, Sponsorship, Awards, Leadership
Annual GOLF OUTING  Party on Every Hole - October
Party on every hole with THE best golf outing in the parish! At the Pro Business Golf Outing all proceeds go to promoting a positive business climate in Livingston Parish.  Sponsorship options on this event go fast.  Teams sell out for this event too.  Your clients will love you for bringing them to this event! Click here for more on the Golf Outing. 
Categories: Fun!, Network, Connect, Sponsorship, Community, Business, Volunteer
Attendance—35 teams plus sponsor.
Business & Community EXPO | Job Fair | Restaurant Challenge- May
The EXPO is three events in one - Business Showcase, Job Fair & Restaurant Challenge. Hovering at 1,000 attendees, the EXPO shines a positive light on all Livingston Parish has to offer. See more on EXPO here. 
Categories: Fun!, Business Resource, Exposure, Connecting, Network, Sponsorship, Community, Information, Business, Volunteer 
GALA - Making its GRAND return in 2019 following a flood postponement
The 'dress up event" in Livingston Parish with a fun theme each year.  Get dressed up and party with Livingston Parish's finest! Hilarious photo opportunities. More On Gala Here 
Categories: FUN!, Networking, Connecting, Exposure, Sponsorship, Community, Volunteer Opportunity 

Special Progamming Events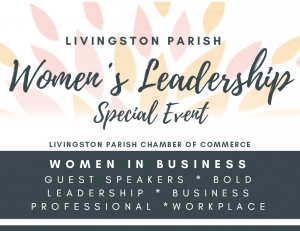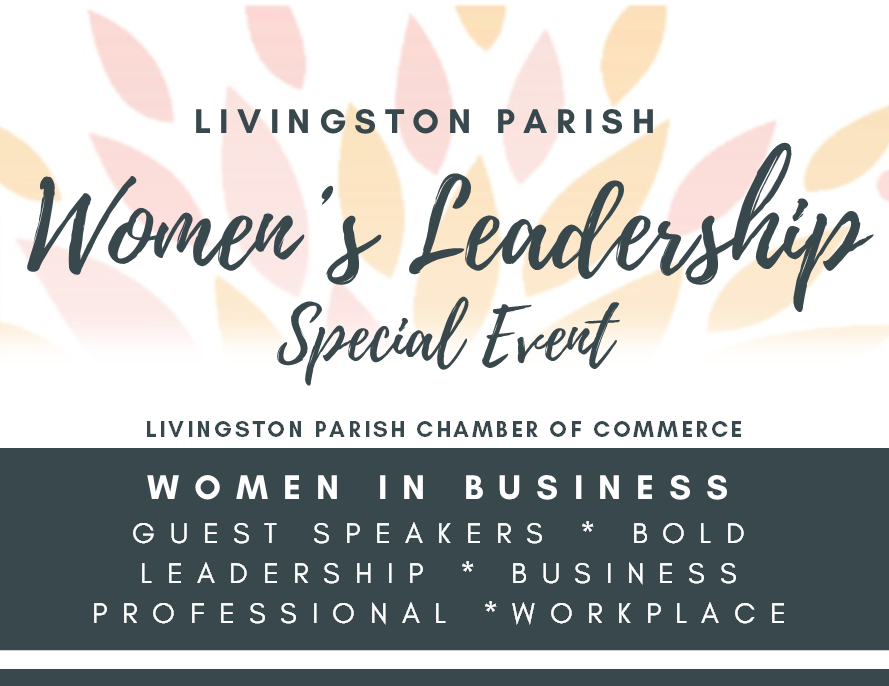 Women's Leadership Special Event - Women's Programming 
Added by the Chamber in 2017, this program offers an opportunity to acknowledge successful women and the those who are up and coming. The offerings include spotlight tables featuring topics specific to women, keynote speakers by women, for women and the announcement of the Women's Leadership Award.  For more on this event, click here.
Categories:  Network, Connect, Learn, Engage, Volunteer, Sponsor, Women

Have a Voice - Be informed - Business Matters! - Schedule varies
Legislative updates are held to inform the business community of the effect of legislation. Infrastructure and other projects are also updated. Political forums are held during election cycles and the Chamber typically will hold a forum – especially if there is no incumbent running. Day at the Capitol is held during session and focuses on statewide business, education and transportation issues.
Categories: Advocacy, Sponsorship, Information, Connecting, Members Only
Livingston Young Professionals Dodge Ball Tournament - March
LYP is all about working, giving and PLAYING in Livingston Parish. At the tournament young (and young at heart) professionals come together in friendly rivalry - everyone leaves more friends than rivals. The event started in 2017 under the leadership of the Charter LYP Council and has been a success every year since. If you are interested in joining the fun, you can find out more here.
Categories: Fun!, Networking, Connecting, Sponsorship Opportunity, Community, Business
Livingston Young Professionals Events 
LYP events are led by our LYP Council of 21 - 40 year olds. All are invited to most LYP events! Sponsorship opportunities are available for most LYP events as well.  Some of our special events are: Dodge Ball Tournament, Trivia Night. We also have professional development events & luncheons - Held 2 or 3 times annually. Monthly Events - LYP Leadership Council Meeting. For more information on LYP and their events, click here  
Categories: Network, Connect, Exposure, Sponsors, Community, Leadership, Volunteer
Leadership Livingston Graduation - Class Project Presentation - May or June
Not only is this a gradation ceremony for the current Leadership Livingston Class, it is also a Leadership Alumni gathering.  Typically held in the evening, the event has well over 100 attendees. One of the highlights of the evening is the presentation of the class projects. A light and fun event with a community feel. More information on Leadership Graduation can be found here. 
Categories: Network, Connect, Community, Leadership Development, Volunteer
Regular Events - Programming - Networking - General Meetings
Leads & Learn for Lunch  
Usually held on a Wednesday, four or more times per year. With an attendance averaging 50 - 70 attendees, the event attracts members to learn about each other's businesses allowing for accurate advocacy and referrals of fellow Chamber businesses. This is a members only event. The "Learn" segment includes a brief informative presentation so you get more out of your time at the event. Learn About Leads for Lunch Here
Categories: Networking, Connecting, Exposure, Sponsorship Opportunity, Members Only, Information, Volunteer Opportunity, Business Leads
Business Meetings | General Meetings – State of Business, State of the Parish, Scholarship Event
Business luncheon usually held the 2nd Wednesday on varying months with high attendance (80 to 200). Meetings are three part and include business updates, words from our guest speaker and sponsorship message. Past speakers include: Business Leaders, Local Entities, US Congressmen, Senators, US Chamber of Commerce, Louisiana State Chamber of Commerce, Local Elected Officials, State Elected Officials, Law Enforcement, Fire Districts, and more. For more info see here. 
Categories: Business & Community Information, Connecting, Advocacy, Public Officials, Business Resources, Networking, Sponsorship Opportunity  
Chamber Business Academy 
Chamber Business Academy | Chamber 101 | New Member Orientation
A comprehensive membership orientation and part of the Chamber Business Academy. Held the final Friday of varying months, the Chamber hosts an in house training session to inform members of the programs, events, community involvement and business resources of members. Read more about it here. 
Categories: Training, Networking, Connecting, Sponsorship Opportunity, Members Only, Information, Exposure, Leadership Development
Chamber 101

Kick start your membership with Chamber 101
Ribbon Cuttings
An official welcoming ceremony conducted to celebrate the opening of a business or building. One of the most exciting times for a business! Scheduled throughout the year. For More on Ribbon Cuttings or Scheduling, Click Here.
Categories: Networking, Connecting, Exposure, Business