LIVE2LEAD is back for its seventh year in Livingston Parish! An experience unlike any other, LIVE2LEAD is an information-packed, leader development experience designed to equip attendees with new perspectives, tools and key takeaways.
2023 Speakers

2022 Speakers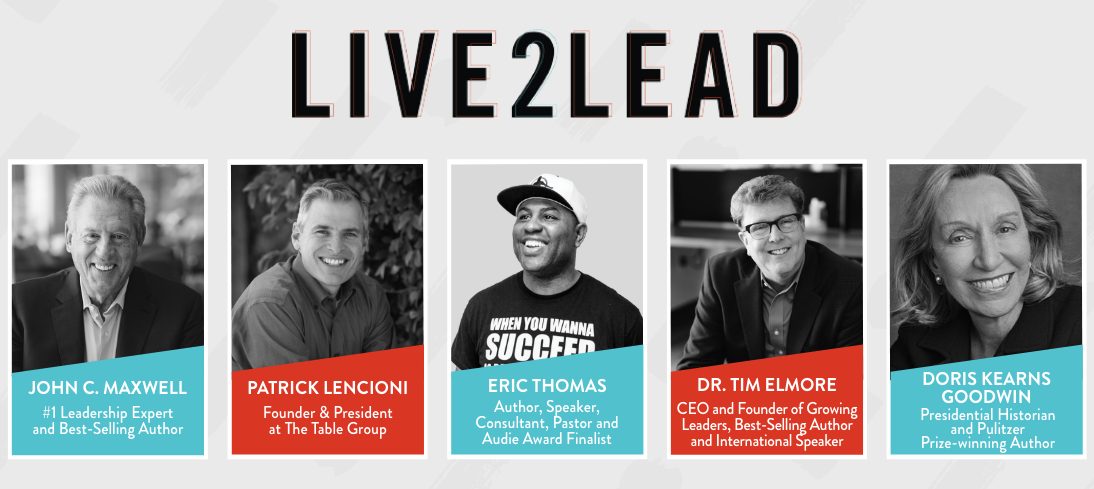 2022 Testimonials
"This is an absolute phenomenal opportunity for anyone to be able to experience this. John Maxwell is very knowledgeable and there will be a ton of takeaways... but Eric Thomas? ET is going to light a fire under some people's cans and get them moving! People would be CRAZY to miss this! The others listed are great too. This event is GOLD!!!"
"This has become an annual favorite event of mine, as it paves the way toward understanding and conquering Leadership."
"I didn't really know what I'd be walking into at Live2Lead, but WOW. Just wow. The lineup of speakers for this is mind-blowing!"
2021 Speakers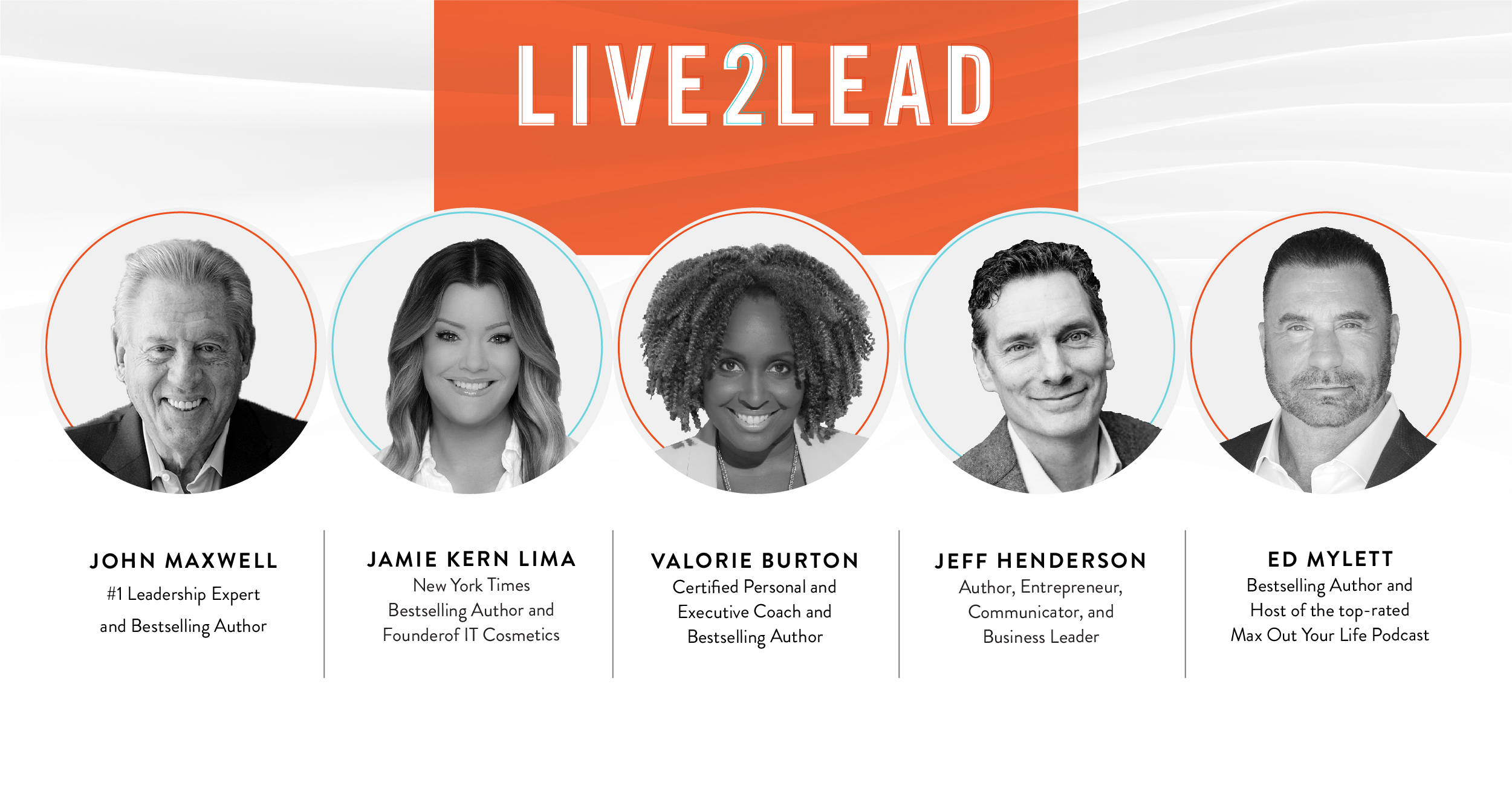 2020 Testimonials
"I enjoyed the experience and the speakers who shared their stories and success. I took away a lot of useful practices and leadership approaches from Live2Lead 2020. As a young woman, Kat's talk was very inspiring."
"I always leave Live2Lead energized and inspired with the speakers and John Maxwell: hearing different experiences and perspectives on leadership gives fresh ideas. The takeaways are something I enjoy and write down to keep for ongoing reflection year after year."
"I thought all speakers were great and spoke very well and said things that can relate to my current job."
2020 Speakers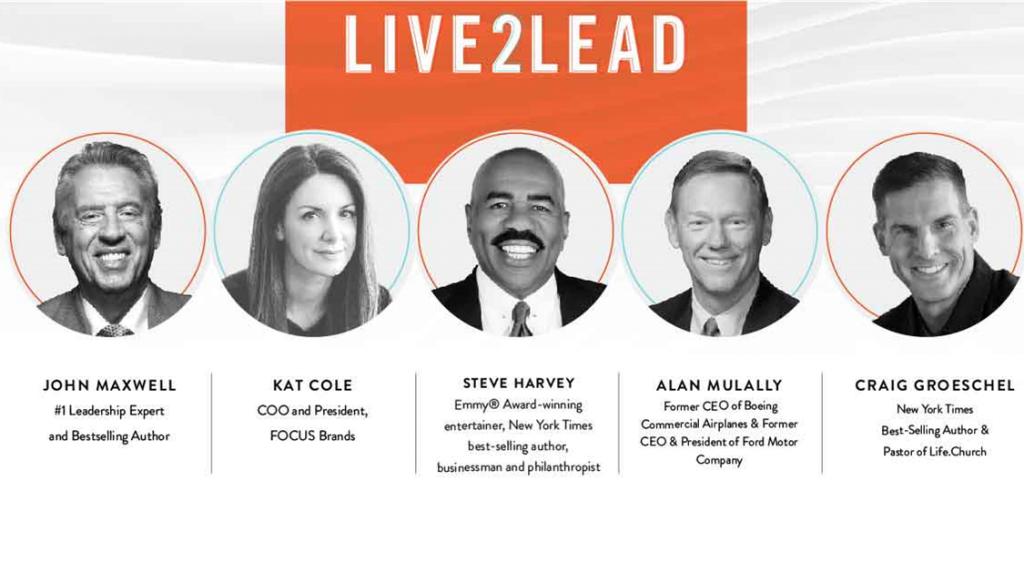 2020 speakers were John Maxwell, #1 Leadership Expert and Bestselling Author; Kat Cole, COO & President of Focus Brands; Steve Harvey, Emmy Award-winning entertainer; Alan Mulally, former CEO of Boeing & Ford Motor Company; and Craig Groeschel, NY Times Best-Selling Author and Pastor of Life.Church.
2019 Speakers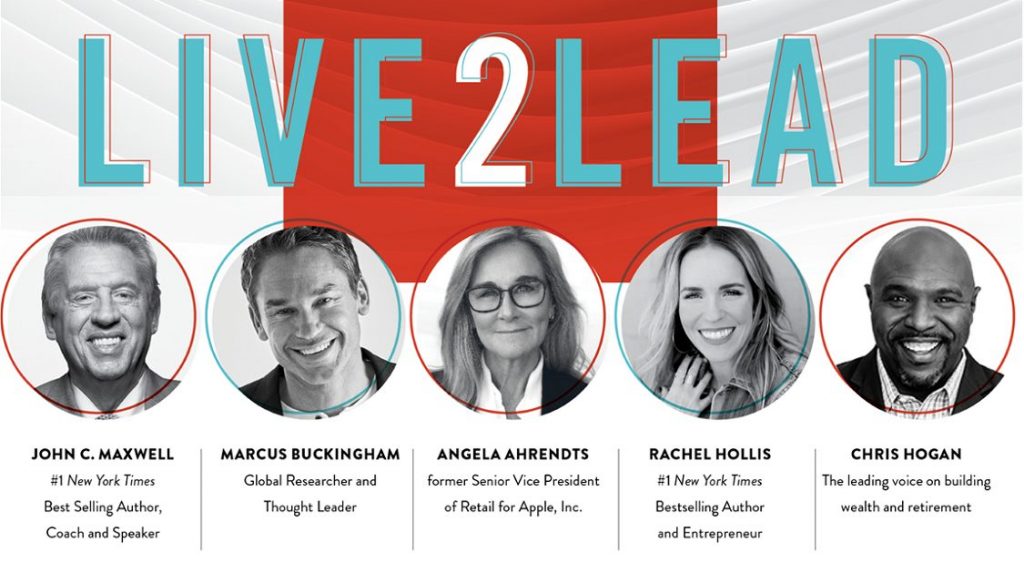 Headlining in 2019 were Rachel Hollis, NY Times Bestselling Author of "Girl, Wash Your Face"; Chris Hogan, best-selling author and financial coach with Ramsey Solutions; Angela Ahrendts, former Senior VP of Apple Retail; and Marcus Buckinham, global researcher and thought leader; and of course, John Maxwell.
2018 Speakers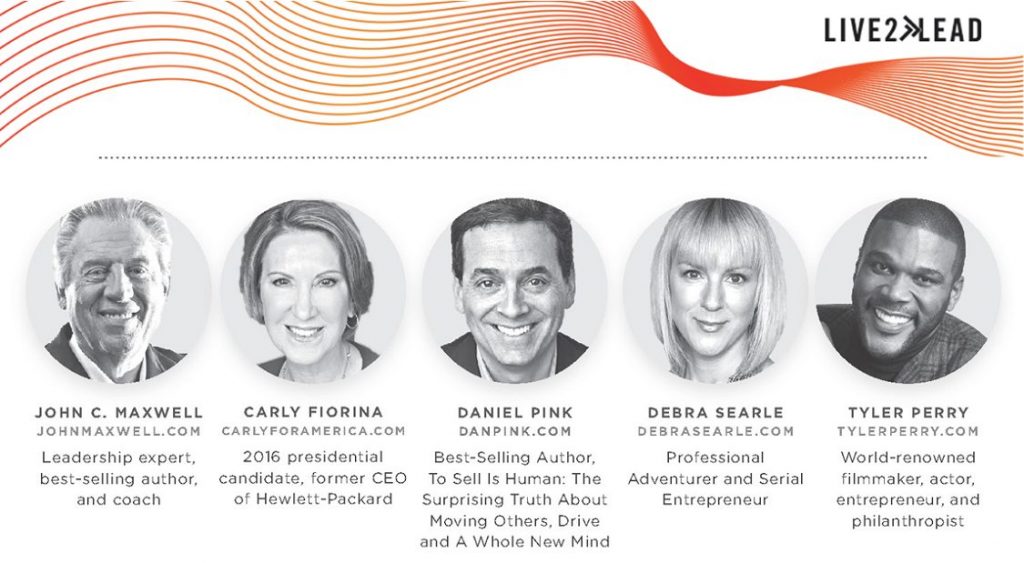 Our second event was also a packed house as Debra Searle talked about her amazing journey rowing 3,000 miles across the Atlantic - alone - and how "choosing her attitude" got her through it. Daniel Pink, Tyler Perry, Carly Fiorina, and John Maxwell also gave great insight on "The Art of the Shift".
2017 Speakers and Event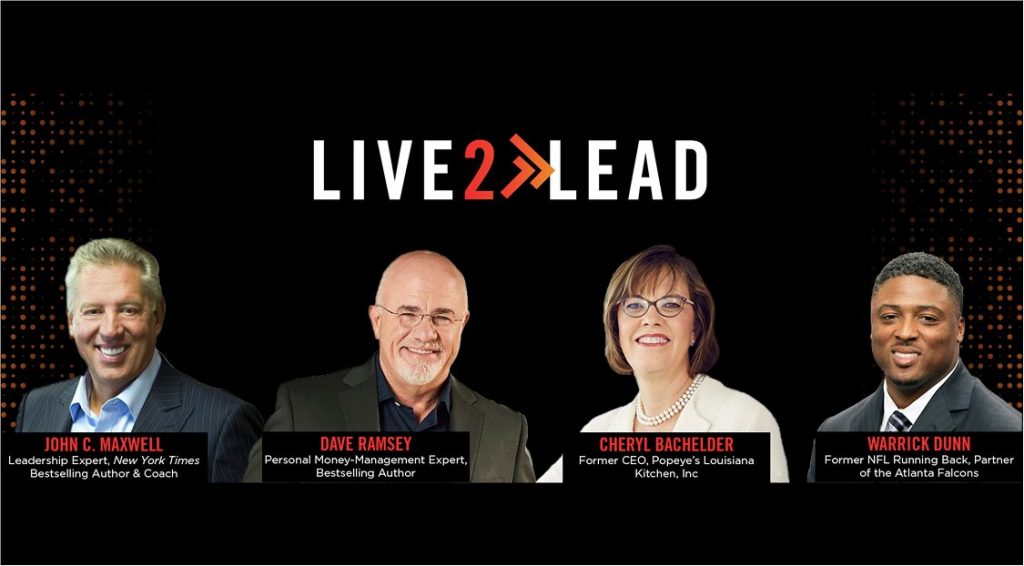 On October 6, 2017 the Chamber held its first viewing of Live2Lead. We had planned to bring the program to Livingston Parish in 2016, but our plans were thwarted, like many of yours. We held a focus group of about 20 people to view the program privately. The overwhelming response - "You have to bring this to our Chamber, Businesses and Parish!"  So we did.  We had over 200 register for the event and they left the event getting way more out of it than they knew. Not knowing what to expect, but appreciating the names and sponsors behind the event, attendees were overwhelmingly excited and enthused by what they had learned that day. Speakers were John Maxwell, Dave Ramsey, Cheryl Bachelder, former CEO of Popeye's, and Warrick Dunn.
2016 Speakers and presenters....
The John Maxwell Experience with Simon Sinek, John Maxwell, Dan Cathy CEO - Chick Fil A and others share leadership insights, professional development and, most important, personal growth. Attendees leave with clear plans for their development.