Events Overview
Browse here for an overview. Events have a click which brings you to a more detailed page on the event. For the latest and most accurate dates, visit our event calendar
found here.
Additionally, the above tab labeled sponsorship opportunities will highlight the projected attendance, the sponsorship options and availability. You can find that tab by
clicking here as well.
Make sure you click n the Sponsor Book PDF to see the attractive
full 12 plus page overview.
It will help you in planning your marketing. As always, we are happy to assist you with finding the perfect fit for your business needs and attaching you to the right event for you. Please note that all event registrations are handled through the event portal directly on the event calendar. We look forward to seeing you at our next event!
Annual Meeting & Awards Luncheon

Annual Meeting & Awards Banquet Business of the Year - January
The chamber's Annual Meeting kicks the year off with the excitement and enthusiasm that each new year brings. We recognize excellence by announcing our Business of the Year Awards plus individuals that make our businesses and parish better. Attendance is typically over 200 with the vibe and energy in the room contagious. Awards are presented and board of director members are installed. A keynote presentation by a business leader is a highlight. Everyone leaves a winner as each table has takeaways plus a big prize for the lucky winner.
Categories: Network, Connecting, Exposure, Sponsorship, Awards, Leadership
Learn More About Our Annual Meeting
Signature Events

22nd Annual GOLF OUTING Party on Every Hole - October

Party on Every Hole with THE best golf outing in the parish! All levels of players are welcome with a scramble format. The best part is stopping at each of the sponsored holes, all 19 of them, for interaction and a chance to vote on the best overall hole, food & "witches brew".
Bring your favorite client as we promise they will thank you for a great outing. The Pro Business Golf Outing where all proceeds go to promoting a positive business climate.
Categories:
Fun!, Network, Connect ,Sponsorship, Community, Business, Volunteer
Attendance—35 teams plus sponsor.
Click here for more on the Golf Outing.

Business & Community EXPO | Job Fair | Cook-off - May

The EXPO is three events in one - Business & Community Organization Showcase, Job Fair & Stirrin' the Pot Cookoff. Hovering at 1000 attendees, the EXPO brings a valuable resource to our businesses plus an event that shines a positive light on all Livingston Parish has to offer. Partnership with local and regional media sources add to the event exposure. Vendor space sells out annually with over 100 vendors.

Categories: Fun!, Business Resource, Exposure, Connecting, Network, Sponsorship, Community, Information, Business, Volunteer See more on EXPO here.
GALA =
2017 postponed due to flood
Attendance - 200 plus Audience: Owners, CEO's, lots of awesome people!
The 'dress up event" in Livingston Parish with a fun theme each year. The Chamber's Annual Gala is your chance to dress up and enjoy a night of fun. It's the talk of the town and THE premier semi-formal to formal evening event in Livingston Parish featuring a great performance and lots of interaction. With sold out attendance, you are sure to see the movers and shakers of Livingston Parish at the Gala. Get dressed up and party with Livingston Parish finest! Hilarious photo opportunities.

Categories: FUN!, Networking, Connecting, Exposure, Sponsorship Opportunity, Community, Volunteer Opportunity
More On Gala Here
Special Programming Events
---

Women's Leadership Special Event - Women's Programming - September 12, 2018
Added to Chamber in 2017, this program offers an opportunity to acknowledge successful women and the those who are up and coming. Over 175 attendees launched this event as one of our most interactive. The offerings include spotlight tables featuring topics specific to women, keynote speakers by women, for women and the announcement of the Women's Leadership Award.
For more on this event, click here.
Categories: Network, Connect, Learn, Engage, Volunteer, Sponsor, Women






Have a Voice - Be informed - Business Matters! - Schedule varies
Legislative Updates | Political Forums | Livingston Day at the Capitol
Legislative updates are held to inform the business community of the effect of legislation. Infrastructure and other projects are also updated. Political Forums are held during election cycles and the chamber typically will hold a forum – especially if there is no incumbent running. Day at the Capitol is held during session and state wide focus on business, education, transportation issues.
Categories: Advocacy, Sponsorship, Information, Connecting, Members Only
Livingston Young Professionals Events

LYP Event's are led by our LYP Council of 21 - 40 year olds. All are invited to most LYP events! Sponsorship opportunities are available for most LYP events as well. 2017 Events include:
Special Events
: Dodge Ball Tournament, Trivia Night,
Professional Development Events & Luncheons
- Held 2 or 3 times annually - plus - What not to Post,
Monthly Events
- LYP Leadership Council Meeting.
For more information on LYP and their events, click here
Categories: Network, Connect, Exposure, Sponsors, Community, Leadership, Volunteer




Leadership Livingston Graduation - Class Project Presentation - May or June
Gradation ceremony of the current year Leadership Livingston Class plus a Leadership Alumni gathering. Typically held in the evening, the event has well over one hundred attendees. One of the highlights of the evening is the presentation of the class projects. A light and fun event with a community feel.
More information on Leadership Graduation can be found here.
Categories: Network, Connect, Community, Leadership Development, Volunteer
REGULAR EVENTS - PROGRAMMING . nETWORKING . gENERAL mEETINGS
Leads & Learn for Lunch
Usually held on a Wednesday, four or more times per year. With an attendance averaging 50 - 70 attendees, the event attracts members to learn about each other's business allowing for accurate advocacy and referrals of fellow chamber businesses. Members only event. Learn segment includes a brief learning segment to get more out of your time at the event. Categories: Networking, Connecting, Exposure, Sponsorship Opportunity, Members Only, Information, Volunteer Opportunity, Business Leads
Learn About Leads for Lunch Here
---
Business Meetings | General Meetings – State of Business, State of the Parish
Business luncheon usually held the 2nd Wednesday on varying months with high attendance (80 to 200). Meetings are three part and include business updates, words from our guest speaker and sponsorship message. Past speakers include: Business Leaders, Local Entities, US Congressman, Senators, US Chamber of Commerce, Louisiana State Chamber of Commerce, Local Elected Officials, State Elected Officials, Law Enforcement, Fire Districts more.
Categories: Business & Community Information, Connecting, Advocacy, Public Officials, Business Resources, Networking, Sponsorship Opportunity For more info see here.
---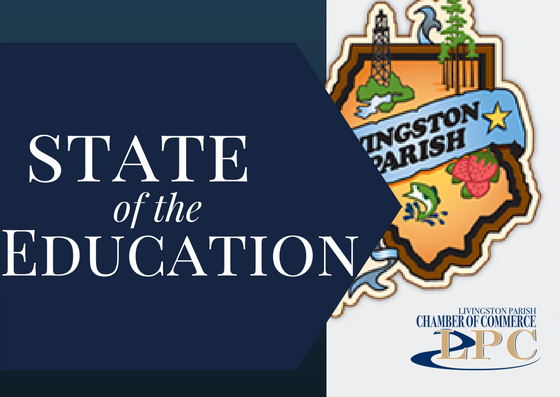 Annual Scholarship Event - Business & Education Partnership Event


State of Education Address / Scholarships -Annual luncheon that includes comments from the Livingston Parish Superintendent of Schools. The Chamber celebrates Education and Community at this annual luncheon event. Featuring an overview on the state of education as well as Scholarship Awards presented
Sponsors of the student scholarships are recognized at this showcase of partnership event.
---
State of the Parish
State of Parish Address - Annual update from Parish President Layton Ricks. Sheriff Jason Ard and other full parish officials as we update our business community on what to expect.
Includes an update on the administration, infrastructure, ordinances and other parish administration updates.
---
Chamber Business Academy
Chamber Business Academy / Chamber 101 / New Member Orientation
A comprehensive membership orientation and part of the Chamber Business Academy. Held the Final Friday of varying months, the Chamber hosts an in house training session to inform members of the programs, events, community involvement and business resources of members.
Categories: Training, Networking, Connecting, Sponsorship Opportunity, Members Only, Information, Exposure, Leadership Development
Chamber 101

Kick start your membership with Chamber 101
Ribbon Cuttings
An official welcoming ceremony conducted to celebrate the opening of a business or building. One of the most exciting times for a business! Scheduled throughout the year.
Categories: Networking, Connecting, Exposure, Business
For More on Ribbon Cuttings or Scheduling, Click Here
---
Committee Meetings – Sign up to serve on committees
The conference room stays busy with 8 to 10 meetings held monthly. Committees, task force and special meetings are events in themselves. Some meetings are scheduled on a monthly basis, some are as needed. A few of the opportunities to Get Involved include Ambassadors, Education Committee, Governmental Affairs Committee, Small Business Council, EXPO Committee, Gala Committee, Golf Committee, Livingston Young Professionals Council, Leadership Livingston Council, Task Force Actions, Structuring meetings, Leadership Alumni.
Categories: Members Only, Networking, Connecting, Advocacy, Community, Training, Information, Leadership Development, Volunteer Opportunity
Join or Learn About Committees

Special Events – Scheduled at varying times
Member & Committee Appreciation, Business Before and After Hours Mixers / Breakfasts
This event gives attendees the ability to meet other members while enjoying refreshments in a casual environment. A great opportunity for the host to present themselves and their business. As the name implies, member and committee appreciation events are held at varying times annually.
Categories: Networking, Sponsorship Opportunity, Connecting, Fun, Information, Business Resource

Student Business / Leadership Conference
Part of the Chamber's Education Initiatives programming, the business / leadership conference is held for juniors in high school. The business community is invited to participate in this program though varying opportunities. The program allows for student interaction with the business community and provides for a more direct approach of working with students.
Categories: Information, Sponsorship Opportunity, Connecting, Exposure, Volunteer Opportunity

50 Year Celebration - Keys to the Chamber Presentation - State Chamber of the Year Celebration - Member Milestone Celebration - $10,000 Raffle
Celebrations held at varying times in coordination with the celebration. As each name states, the opportunity to celebrate comes with the dates and acknowledgement of each of the actions. These celebrations are a very special time for the growth and accolades of the chamber's members.
Annual Meeting Luncheon
Event Date: January 17 2018
Average Attendance: 450
Description: Our annual meeting highlights the accomplishments of the Chamber over the previous year and serves as a ceremonial passing of the gavel from the past Chairman to the incoming Chairman. The program features a high-profile guest speaker along with the official instillation of the new Board of Directors.
Sponsorship
John Holmes
- President
Holmes Building Materials

Vice Chair, Governmental Affairs

John is president of Holmes Building Materials with locations including Denham Springs. He supports many community projects. Holmes was named the Chamber's Member of the Year in 2014. John is a valuable voice on the Chamber's Governmental Affairs Committee and brings many perspectives through his type of business.
Todd Caruso -
Attorney
Todd Caruso, Attorney at Law, LLC
Governmental Affairs : Golf Outing
Todd has a general civil law practice & frequent author and lecturer on issues involving employment law, the Fair Labor Standards Act and Louisiana's wage related laws. He was appointed as the Magistrate Judge for the city of Walker in 2014. Caruso is involved in the Louisiana, Baton Rouge, and Livingston Parish Bar Associations.
Jill Wyble
- Director of Business Development
Our Lady of the Lake Livingston

Education Committee, Expo
Jill's area for OLOL includes Livingston, Ascension and Baton Rouge. Jill has been active in the Chamber and has served on the board since 2012. Her employer was named Livingston Large Business of the Year in 2014. Jill has served as co chair of the Chamber's Gala. She is a graduate of the Inaugural Leadership Livingston Class of 2013.

Livingston Parish Chamber President/CEO

April Wehrs
Livingston Parish Chamber of Commerce
President / CEO